Giphy is a platform where you can make your own gif to express your feelings in visual expressions. Facebook is working with Giphy for many years to provide the services gifs to its customers to add entertainment in their communications.
Here is the latest statement from Facebook reported by Axios, Facebook will acquire Giphy in a deal around $400 million and stick it with the team of Instagram to make the feature of gif available for Instagram stories in more easy manners.
GIPHY
Giphy is a gifs search engine, gif is an animated image through people who explains their expressions in chat and feels more comfortable and enjoys the joyful gifs. Giphy was founded in 2013 by Alex Chung and Jace Cooke. Here you can able to create your own gifs. The giphy is working with many apps including Facebook, Instagram, and Twitter, etc.
WHY FACEBOOK BUY GIPHY?
Giphy offers its services to Facebook for many years and noted the gigantic attention of the people towards it. The audience shows a massive interest in using gifs in their chat. Facebook noted this activity of its audiences and included the feature of giphy with it other apps like Instagram, but the recent deal of Facebook is to acquire Giphy and combine it with the team of Instagram to introduce more frequent ways to the audience of Instagram about gifs.
Instagram is also right now using gifs and facilitate its audience by providing the giphy services of using gifs in its direct messages and stories. The recent deal of Facebook in which it buys Giphy (gifs search engine and maker) to enhance its services on Instagram.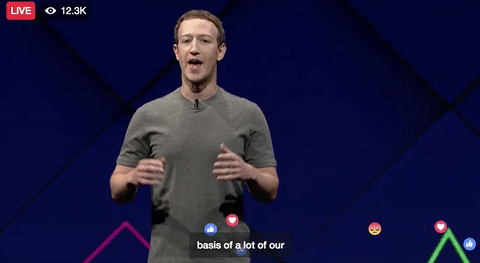 SOURCE OF TRAFFIC FOR GIPHY
Facebook's vice president Vishal Shah wrote in a Facebook blog, Giphy is one of the most loveable features of its audience. He further wrote that the source of half of the Giphy's traffic is from Facebook and its apps. Instagram is the source of 25% of Giphy's traffic. So Facebook takes a decision to join it with the Instagram team to enhance its services on Instagram. They welcomed Giphy in the Instagram team.
ACCORDING TO GIPHY TWEET
Giphy tweets on 15 May 2020, in this tweet giphy release news about its recent deal with Facebook, and also revealed that now it starts working with the Instagram team.
We're so excited to share some news – GIPHY has been acquired by @Facebook and is joining the @Instagram team! 🎉

Read more here: https://t.co/U6AYQ16cEQ pic.twitter.com/ATjEY1VK3K

— GIPHY (@GIPHY) May 15, 2020
WHAT GIPHY MENTIONED IN A BLOG POST
Giphy said in a blog post this platform will still available for
"openly available to the wider ecosystem",
and make people sure that what content they create will not be removed.